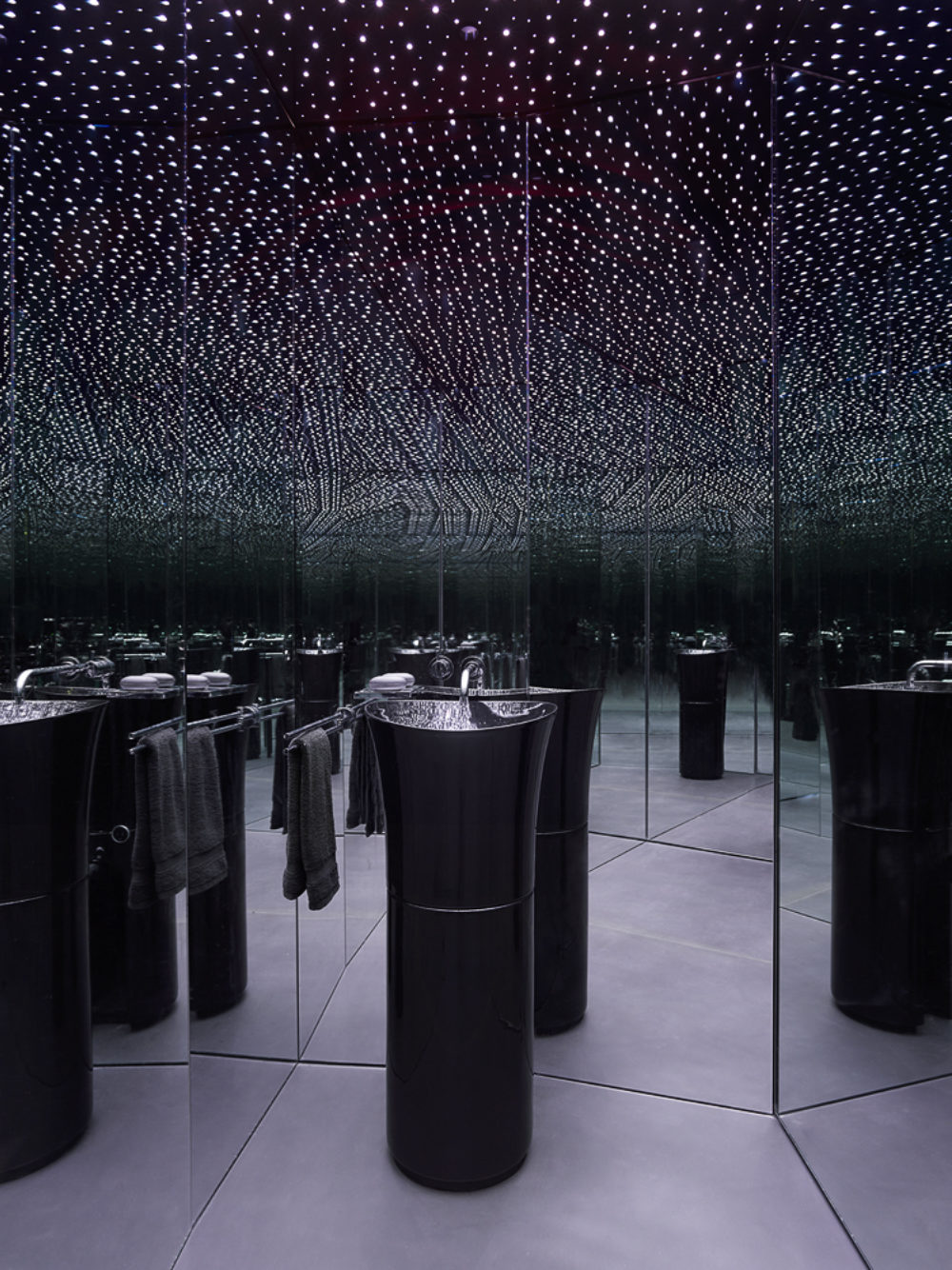 In Russian Hill, Butler Armsden joined with Gary Hutton Design to give this San Francisco penthouse a refresh for long-time clients. Twenty-five years after the first remodel, the original project team reassembled to breathe new life into the home. Glenda Flaim led the team in maximizing the impressive space and its 360-degree views of the Bay. In fact, the owners host chamber music concerts in their home and wanted to open the space to create one large sitting area adjacent to the grand piano. Glenda designed the area to assure there was no bad seat, allowing for 50 seated guests. Acoustical curtains were added to the space, able to roll down to keep the sound from echoing off the glass windows. Just past those curtains, glass was maximized and divisions were minimized to take full advantage of the views. 
The long-time owners didn't shy from color in this 3,400 sq. ft. home. For example, the powder room, with all mirrored walls, has a perforated paneled ceiling with LED lights above that change colors, designed by Hiram Banks Lighting Design. This feature, enjoyed by their party guests, is inspired by a restroom in Nopi Restaurant in London as well as artist's Yayoi Kusama Infinity mirrored room art installations. 
To work with clients 25 years later on the same home, with the same team, is a testament to the firm's enduring commitment to their clients and design industry colleagues.
Email Project
Special Feature
In the dining room, the faces on the chairs include musical icons Mozart, Richard Strauss, Clara Schumann, Marian Anderson, and Elizabeth Sprague Coolidge, as well as writer Joseph Conrad, poet Edna St. Vincent Millay, environmentalist Kay Kerr, chemist Rosalind Franklin, and biologist Karl Landsteiner. Each of these individuals are childhood icons to the owners and are people they imagine inviting over as dinner guests!